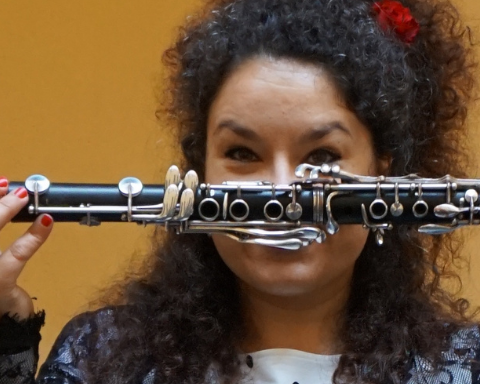 Nigunim Session
Jewish tradition is drenched by beautiful melodies (nigunim) matching blessings, psalms, prayers, and songs. In particular, the Hasidic tradition infuses deep spirituality and intense energy within these melodies with the intention of creating a connection between two worlds: the physical and the spiritual. During this session, we will learn melodies borrowed from the past and from different geographical areas, with words and especially without words.
Klezmer Music – Lecture & Listening Session
Klezmer music has its origin within the Jewish Eastern-European instrumental folk music of pre-WWII Ashkenazi Yiddish-speaking communities. Its fascinating character is compounded by the duality of melancholy and joy, expressing the "singing of the soul" and imitating the human voice, e.g. sobbing and laughing. In this session, while listening to original recordings, Valeria Conte will present an overview of how, where, and when Klezmer music style developed.
Yinon & Valeria (music video)
A duo that blends the sonorities of the Middle East, from Iraq to Turkey, passing through Israel, with the expressivity of Eastern European Klezmer. They present a Jewish-roots repertoire of original music as well as arrangements of well-known tunes embellishing them with improvisation. Yinon Muallem: oud/percussions – www.yinonmusic.com Valeria Conte: clarinet – www.valeriaclarinetta.com
Valeria's Klezmer Chariot featuring Farshid Dalir (music video)
Valeria Conte's Stockholm-based Klezmer music trio performs original arrangements of traditional and newly composed Klezmer melodies, as well as Yiddish and Hebrew songs. This time, they will feature a creative and expressive Iranian musician, Farshid Dalir, blending Klezmer with Persian and Azerbaijani percussions. Valeria Conte – clarinet and vocal / John Runefelt – accordion / Stian Grimstad – tuba / Farshid Dalir – percussions.
—
Valeria Conte is an Italian musician living in Stockholm, Sweden. She has researched Klezmer music and its relation with Jewish culture since 2006, performing in various multicultural projects in Europe and Israel. Paideia One-Year Program graduate (2019), Valeria is currently teaching Klezmer music ensemble at Paideia Folkhögskola and writing her MA thesis "Music & Prayer – A case study of cultural memory and community identity" at the Centre for theology and religious studies, Lund University.
Foto: Leon Cherniev