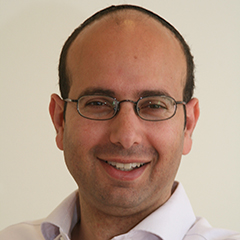 The Seven Loves of Isaac
Can we really ever get to know our Patriarchs and Matriarchs well? What was Isaac really like as a son, husband and father? A close reading of just a few verses in the Torah with commentaries will reveal a man who may surprise you.
Exodus: The Ultimate War of Good vs. Evil
We are constantly reading, listening to and watching stories that replay the battle of right against wrong, good against evil. In this session you will discover one of the ancient origins of this timeless battle, fought between Moses and Pharaoh over three thousand years ago. Torah, Midrash and Egyptology will help us uncover what it was all about.
Maoz Tsur and Chanukah
–
Raphael is Dean of the London School of Jewish Studies where he lectures in Jewish Education and New Readings of Classical Texts; as well as training teachers, rabbis and educators. He has Semicha (Montefiore Kollel), a PhD (Theoretical Physics, KCL), an MA (Adult Education, UCL), and is a Jerusalem Fellow (Mandel School)