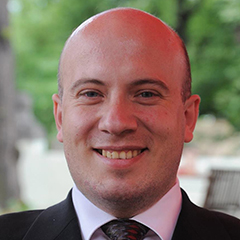 Gimpel Beynish, der shadkhen – Yiddish Comic and the Quest for American Jewish Identity
Yiddish comic strip Gimpel Beynish, der Shadkhen by Sh. Zagat appeared in New York's daily Di varheyr more than 100 years ago. The humorous adventures of a notoriously unsuccessful Jewish matchmaker reflect in the same time a deeper topic – quest for a Jewish identity in the New World.
Swedes, Czechs and Jews – Battle of Prague (1648) through the Eyes of Yiddish and Czech Chronicles
In 1648 the Swedish army besieged and bombarded Prague. Many citizens rushed to defend the city, including the large local Jewish community. An anonymous Jewish author described the siedge in a long Yiddish poem praising the heroism of the Jewish defenders. The same event was described also in one Czech Christian chronicle, but in a rather antisemitic way. A comparision of these two reports shows clearly the difficulties of Jewish-Christian relationship in the 17th Century Prague.
The Problem of the Double Original – Translating Isaac Bashevis Singer
Isaac Bashevis Singer is one of the most translated American Jewish authors. Often his works are translated from English translation instead of the Yiddish original. This leads to serious distortion of the original meaning, mainly in reference to Jewish traditions and mysticism. On the other hand some of the changes in the English version are undoubtedly made by the author himself, so one can argue there are two originals of some Bashevis' works – one for Jewish and one for non-Jewish reader.
–
Teaching fellow for Yiddish language and literature at the Faculty of Arts, Charles University, Prague (Czech Republic) and translator of Yiddish literature